HR Marketing & PR are a changin'
In a recent blog post by HRmarketer CEO, Mark Willaman, the case is made that things they are a changin' in the world of marketing and PR — especially in the outsourced human resources world.  As Mark puts it, "If you're managing your marketing and PR the same way you did five years ago, you are doing it wrong today."
A few interesting statistics Mark uses to illustrate his point:
Online ad revenue in 2010 has surpass print newspaper ad revenue for the first time.
Less ads = less editorial copy = less traditional media placement opportunities
Total Worldwide Internet Users in 2010 = 1.97 billion,
And 41% of users say they get most of their news online.
If that doesn't get your attention, check out HRmarketer's infographic on the Changing Landscape of HR Marketing & PR.
Let's summarize the three steps you SHOULD be taking today and in 2012 with respect to marketing and media relations, according to Mark.
You need to be online.
You need to regularly produce engaging content
You need to identify and pique the interest of "influencers" and "content curators"
As obvious as that sounds in 2011, many are still blasting content via news releases and then bulk email journalists with the same information.  The former is close, but no cigar.  The latter is just plain wrong.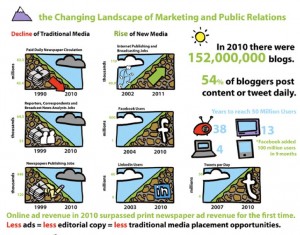 Thankfully, our friends at HRmarketer are hosting a live webinar on December 8th with Lance Huan, contributing editor of ERE and TLNT.com, and Elrond Lawrence, VP of media relations with HRmarketer.
You can register for the interactive webinar here and get all the details (including their talking points) on HRmarketer's blog.