JDM's First WordPress Plugin
Ever print a web page out and it's just about unreadable?  Lord knows we have.  Partly out of frustration the JDM team has just completed their first (albeit simple) WordPress plugin available for free download.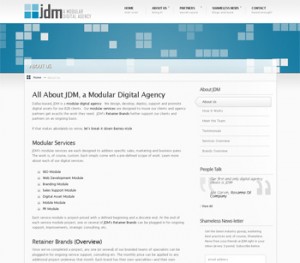 Looking at JDM's (old) website you can see how important it would be to be able to print a page that doesn't waste a ton of ink or look unreadable.  After an exhaustive search, we just couldn't find a simple CMS plugin that could get the job done.  So the Labs team came up with a simple plan and executed.  The result, JDM's first free WordPress plugin.
JDM's Printer-Friendly CSS WordPress plugin is a simple, white-labeled plugin for any WordPress website or blog that automatically uses a separate (and editable from the admin) CSS style sheet for use only when a user prints a web page.
The new plugin is currently in BETA and only available for direct download, but after a little more testing we'll be submitting it to WordPress.org.
As the JDM Labs team puts it in a recent post announcing the new print-friendly plugin:
"It's a very simple plugin (hence why it's free) that adds a style sheet META tag to your header.php file (via the WordPress get_header hook) with the attribute media='print'. The plugin also comes with a simplified style sheet editor, so you don't even have to leave the WordPress admin to make changes, updates to your printer-friendly CSS file. Just log into the admin and look under Appearance >> Print CSS."
Learn more about our new Printer-Friendly CSS Plugin and download the plugin here.